Introducing the Distinguished Bestselling Author of the book "My Dad's Daughter," Divya Gupta Kotawala
Divya Gupta Kotawala is a multifaceted individual whose life journey has been as diverse as it has been inspiring. A bestselling author, she has etched her name in the literary world with her heartfelt work. However, Divya's story is one of resilience and achievement that spans beyond her writing.
Born and raised in Delhi, Divya's life is a testament to the power of confidence instilled by her background. Her strong belief in the value of education has been a guiding force in shaping her personality and fortitude.
Divya dons many roles with grace and dedication. She is a loving wife and a devoted mother to her 15-year-old daughter, Manya. Additionally, she is the co-owner of "House of Kotawala," a renowned Delhi-based jewelry brand specializing in high-quality diamonds and precious stones at wholesale prices. The legacy of this business spans an impressive six generations.
Yet, among her many roles, Divya holds the cherished title of being her father's daughter – Shri Suresh Gupta. Tragically, Divya lost her father to the challenges posed by COVID-19 in 2021, an experience that deeply moved her.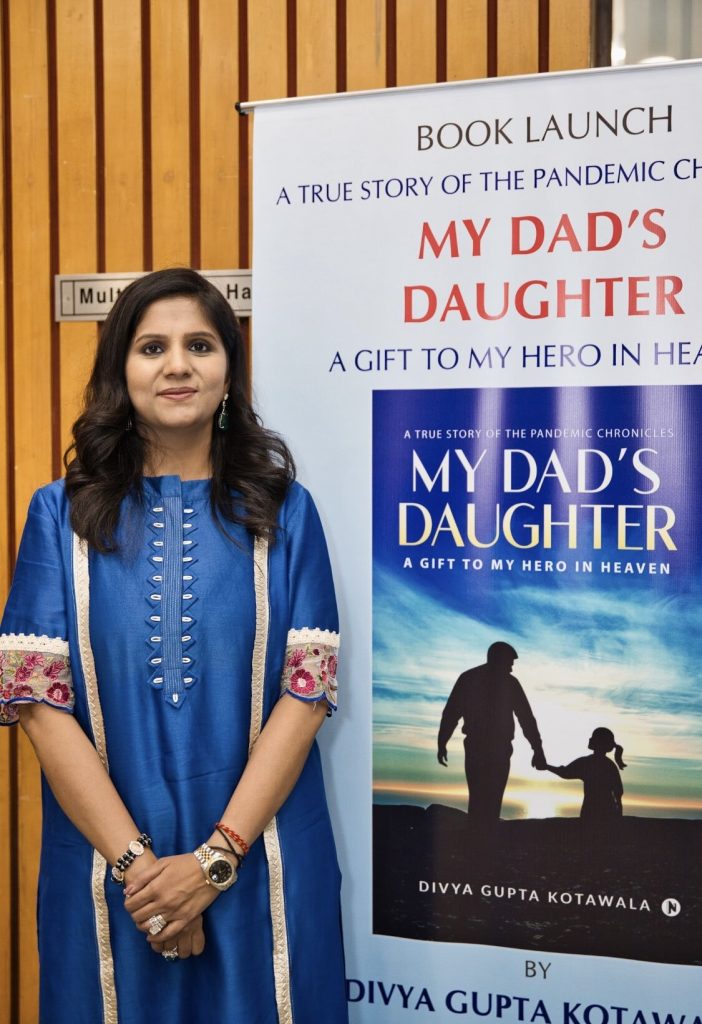 In honor of her father and as a means to find closure amidst the unfathomable loss, Divya embarked on a new journey as an author. She recently launched her book, 'My Dad's Daughter,' on the first anniversary of her father's passing.
In "My Dad's Daughter," Divya Gupta Kotawala crafts a heartwarming narrative that explores the enduring bond between fathers and daughters. Through poignant storytelling, she delves into the complexities of family dynamics, personal growth, and the special connection shared between a father and his child.
This book is a touching portrayal of the universal theme of fatherhood and the unique journey of a daughter navigating life's challenges. Divya Gupta Kotawala's work captures the essence of love, resilience, and the enduring power of family, making it a must-read for those who cherish the precious relationships in their lives.
Divya's educational background is equally impressive. She excelled in her schooling at Modern School, Barakhamba Road, earning accolades and recognition for her numerous extracurricular achievements. Her academic journey continued at the prestigious St. Stephen's College, Delhi University, where she pursued an Honours degree in History. Subsequently, fueled by her passion for design and creativity, she joined the National Institute of Fashion Technology (NIFT) for a course in fashion designing. Her quest for personal fulfillment led her to engage in various freelance projects and collaborate on a children's development and enhancement project called Yellow Bumble with a friend.
Divya Gupta Kotawala's story is not only about literary success but also about the resilience and multifaceted nature of the human spirit. Her journey from a diverse educational background to a successful jewelry business owner and now a bestselling author is a testament to her unwavering determination and the profound influence of her background and experiences.
In
Author Interview, Best Indian Literary Magazine to Submit Writing, Book marketing company in India, Book promotion in India, book review, Divya Gupta Kotawala, Indian Literary Magazin, Inkerspress, Magazine, My Dad's Daughter, the literature today, The Literature Today News, Top 10 Book Editing Companies in India, Top 10 editing company in india, Top 10 Self Publishing companies in india, Top Indian Blog, Top literary magazine in India
Title: Beyond Royalty Author: Shreya Talwar Genre: Fiction Romance Pages: 166 Publisher: Astitva Prakashan Introduction: A Triumph in Contemporary RomanceBeyond...