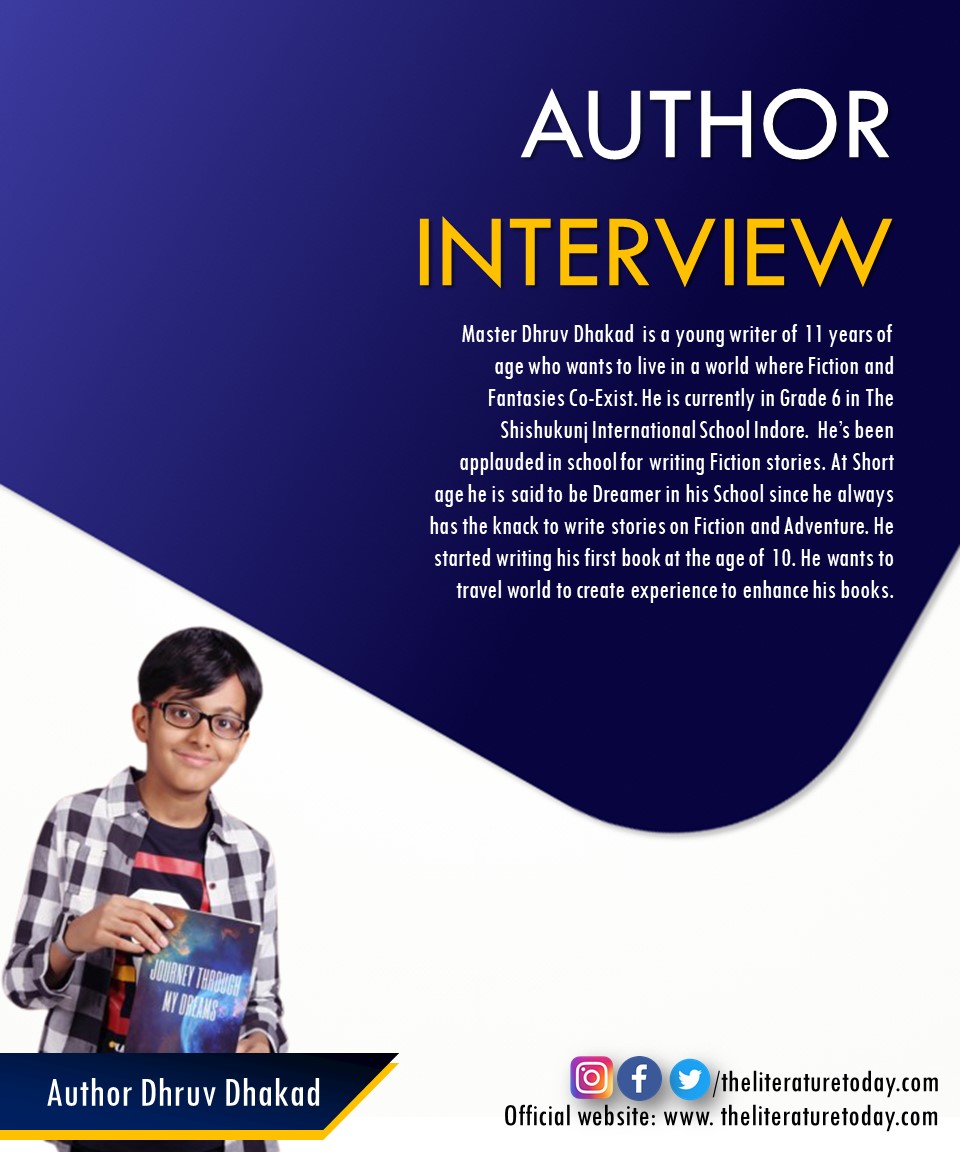 Author Interview | Dhruv Dhakad|The Literature Today
February 11, 2021
0
By
Evincepub Publishing
Que: I would like to begin by congratulating you on the publication of "Journey Through My Dreams." How has the response to the book been so far?
Dhruv Dhakad: Thank You! The response has been great. Everyone has loved the book. Not only in India but my books have been sold internationally and everyone is enjoying My Journey of Dreams.
Que: What led to the idea of writing "Journey Through My Dreams"? Were there any events that inspired the work?
Dhruv Dhakad: I am very fond of reading books. I always dream about fiction world and my parents, grandparents encouraged me to write stories. As in lockdown we are not allowed to go outside so i find it quite intresting and exciting to write some fiction stories from my own imagination to reach a wider audience this way my Journey as author began.
Que: How easy or difficult was it for you to understand the characters and write them since you are a third person merely reporting the situations in "Journey Through My Dreams"?
Dhruv Dhakad: It was tough to imagine situations in some of my stories but as all stories and characters have emerged from my imagination and dreams so, I found it very interesting and exciting to share it with my readers. I love all my characters and their journeys. The book is essentially a extension of my dreams, hopes and challenges.
Que: You have featured 15 stories in "Journey Through My Dreams." Is there any reason for keeping these many stories as there could be many more, or you plan to write more in the future?
Dhruv Dhakad: I plan to Write Novels Now. I started writing stories and ended 15 stories. I could have written many more but wanna check what would be response to my first book
Que:Are there any authors that you enjoy reading or any books which are your favorites?
Dhruv Dhakad: I enjoy reading Wimpy Kid and my Favorite authors are Sudha murthy, Jeff Kiney and My Favorite book is Gerinimo Stilton Special Edition. I am very much inspired by the simplicity and connect these Authors create with their readers
Que: Do you think calling "Journey Through My Dreams" a work that holds meaning for everyone would be right?
Dhruv Dhakad: Yes I think this holds a meaning. I at time feel the fiction I have written will hold some future and I would get to see them in near future
Que: "Journey Through My Dreams"has given a powerful introduction to your potential as a writer. Can the readers expect more from you in the future?
Dhruv Dhakad: Yes I will write more books.I am planning to write a fiction Novel or might be series. Its too early to think at this point. I am right now enjoying success of my first book
Que: The title, "Journey Through My Dreams," sounds quite intriguing on first reading. What is the story behind the making of it?
Dhruv Dhakad: I have lived in my wonderland at times. When I wrote stories too I felt that whatever I am writing is like awakening from the dreams. Each of my story were generated from my dreams that I see and that's how I feel that to start with 1 and to reach to 15 stories is a journey. Thus I gave the name to be Journey Through my Dreams
Que: Do you think "Journey Through My Dreams" can be restricted to any particular genre? Or can it be categorized under more than one genre?
Dhruv Dhakad: Its Categorized in Fiction, Fantasy and Sci-Fi. The book is all about adventure and thrill.
Que: The stories of "Journey Through My Dreams" are more based on the fantasy element. What is the true inspiration behind the plots of the stories?
Dhruv Dhakad: My true inspiration is ideally my dreams and imagination. What I dreamt for me is actually a real world for me. Many think that my world is like living in dreams or day dreaming but we know people who dream are the ones who makes those dreams real. I feel some of fantasy of my book I would live in my life time.
Que: If you were to describe "Journey Through My Dreams" in a few words without giving any spoilers, what would those words be?
Dhruv Dhakad: My book is all about futuristic thinking. The character I imagined or thought must come true in future. Its all about dreams, imagination, hopes, fears, and ambitions
Que: How easy or difficult was it for you to construct the plots and develop the characters in the short story framework in "Journey Through My Dreams"?
Dhruv Dhakad: For me it was easy as I have lived these stories in my dreams. At times I have stucked but somehow I got out by again thinking about dreams.
Que: Thank you very much for sparing your time. I look forward to reading more books from you in the future. All the best.
Dhruv Dhakad: Thanks. Hope you enjoyed the book. I hope I will able to justify your faith by writing more books
Can't wait to read it? Buy your copy of "Journey Through My Dream" using the link below.
Buy Now: Order on amazon